Blogs
The recent blast of arctic weather is driving up utility bills in middle Tennessee, and is forcing everyone to look for ways to conserve on their power consumption!
Not only is the bad weather driving up prices, but utility providers are being forced to raise their rates as well, compounding the escalating utility costs to the homeowner and business owners alike.
The current economic crisis is affecting family budgets and their ability to meet these increased costs of heating and cooling their homes.
Though the government and utility providers are trying their best to assist homeowners with their utility bill, those bills for most of us are just not going to go away!
The only remedy to this situation is to reduce consumption!
How is this possible with single digit temperatures knocking on Tennessee's door?
When we get cold, we put on more clothes or cover up with a blanket. This is the same effect as adding insulation to your home. However, this procedure can be very expensive and with our high utility bills stacking up on the kitchen counter, is really not a consideration. The same holds true for replacement windows, a major investment which we cannot afford.
There are many things that are economically feasible and many can be performed by the homeowner without hiring high-cost specialty contractors! Reports by the US Department of Energy indicate that 30% of your utility bill is the result of air entering your home. This means you can reduce your electric bill by 30% by stopping the flow of air in and out of your home!
In most cases this is an extremely easy and cost-effective repair that will have a significant impact on your utility bill. These repairs are not about increasing the efficiency of your homes installation, windows, doors, heating and cooling equipment which can be a monumental burden on your budget. It is about stopping air from entering and leaving your home.
The challenge lies in locating these leaks and prioritizing the repairs that can be made within the restraints of your budget. An article by the US Department of Energy states that utilizing an infrared thermal imaging camera is the most effective tool for locating energy loss.

Example of Air Infiltration around a window and door.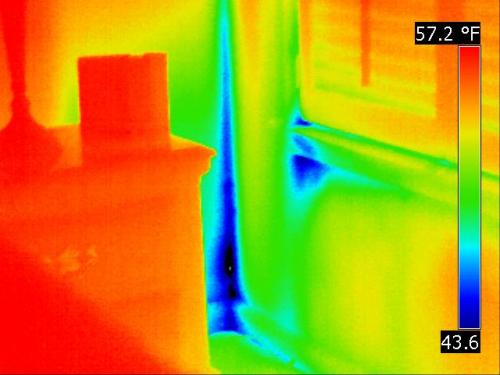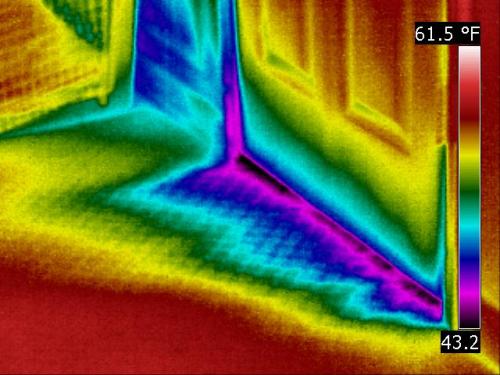 The use of this equipment is extremely fast and accurate. Most thermal scans of the home for air leakage can be completed in about one hour and better yet, can best be performed in the evening after work!
From the U.S. Dpt of Energy:

Air Sealing an Existing Home
Air sealing is one of the most significant energy efficiency improvements you can make to your home. Air sealing will not just reduce energy costs; it will also improve your home's comfort and durability.
To request more information on Infrared Thermal Inspections in Tennessee, use this: Request Form
Submitted by DavidAndersen on Fri, 01/16/2009 - 13:56.